Having gotten really in to running last summer, I ran my first marathon in October, in Victoria, BC. It was an overwhelmingly positive experience: the race itself was great and I really surprised myself by running it in under three hours. But as soon as I crossed the finish line, I started thinking about Marathon Number Two. This was mainly because I just didn't feel all that spent after Victoria. I was definitely tired, and sore, but I definitely didn't feel like I'd pushed myself as far as I could. I knew I could go faster. So I decided to sign up for the LA Marathon in mid-March, hoping that running two marathons so close together could be a positive thing, a way of maintaining my fitness and turning the Victoria Marathon into a very strenuous, very early trial run for LA.
I decided to follow a training program really carefully this time. For Victoria, I only really trained for two months, and then jumped between a training schedule on the Victoria Marathon's website and one in Matt Fitzgerald's book 80/20 Running. After Googling around a bit, and for no really strong reason other than that lots of marathon-pace training runs sounded like a smart idea, I decided on Hansons Marathon Method. I bought the book, read it cover to cover, and decided to follow the Advanced plan.
I followed it for the full 18 weeks. I missed some days here and there, particularly in the last month, but for the most part I followed it diligently. It did get a bit boring at the end (it's extremely repetitive compared to Matt Fitzgerald's schedules) but I mostly enjoyed it. Having now actually followed it for 18 weeks, I can confirm that the marathon-pace Thursday runs really do make a lot of sense. By marathon time, I knew my pace and knew I was capable of maintaining it.
I started my training aiming for a 2:42:00 finish. This was based on the full running time of the Neu! catalog — a pretty stupid reason, especially given that I no longer ever listen to music on runs (it just feels unsafe to me now). This would have required about a 6:10/mile pace for the marathon. Early marathon-pace training runs revealed that while I could hold this for 6 miles, there was no way I could hold it for 26.2. So after stubbornly holding to 6:10 for almost 2 months of training, I decided to adjust my goal. Thinking more metrically, like a Canadian, I would try to average under 4:00/km — a seemingly impossible feat a few months ago, but one I now knew was reasonable. In imperial terms, this meant about a 6:24/mile pace for the marathon, and a total time around 2:47:30. It was still a huge challenge, but I felt capable of it. And the Hansons marathon-pace training suggested it was manageable. In the last several weeks, it felt almost easy to hold 6:24 or less on my 10 mile training runs.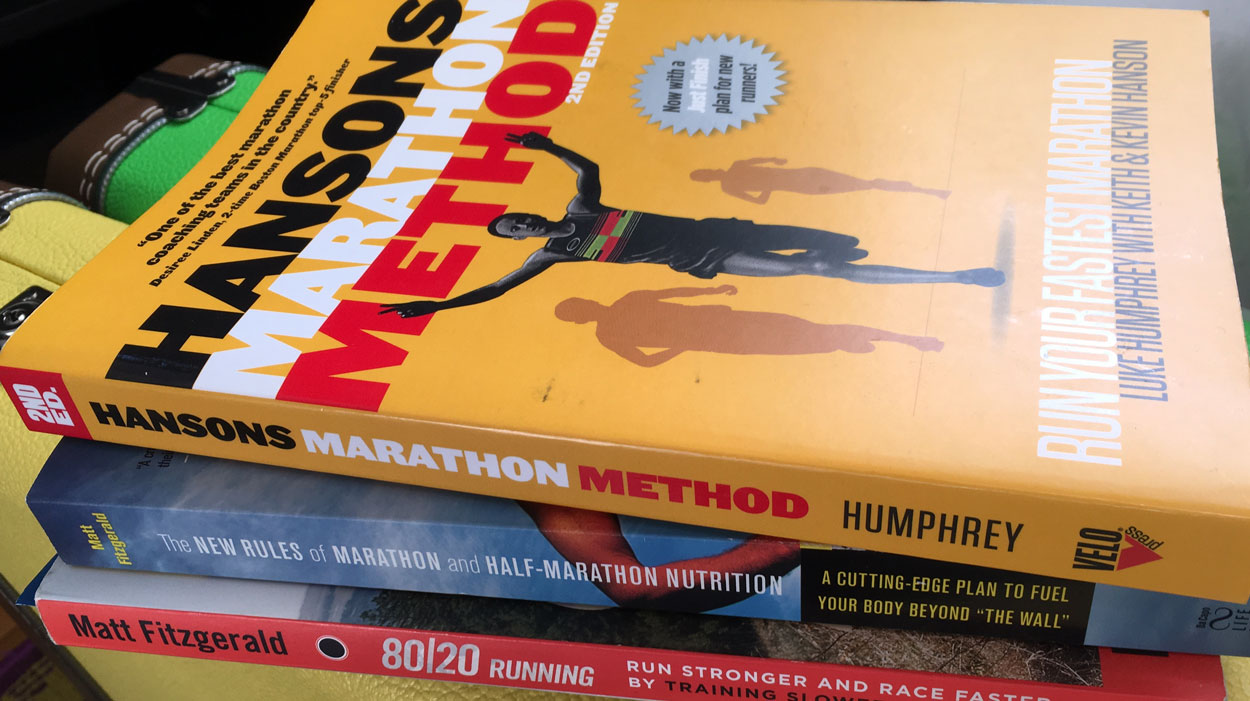 Another book I relied on was Matt Fitzgerald's New Rules of Marathon and Half-Marathon Nutrition. I read the whole book, but only ended up really following the pre-race and race chapters, playing the first 16 weeks or so by ear, and just trying generally to eat healthily. I did find Fitzgerald's tips for fat loading, carbo loading, and race day nutrition to be extremely useful. I followed them and they clearly paid off.
I took the train from San Diego to LA on the afternoon before the race. I spent as little time as possible in the race expo and headed to my Airbnb in Echo Park, about a 10 minute walk from the race start at Dodger Stadium. I ate a lot of carbs, but no so many as to make myself sick, which was what I ended up doing in Victoria. I went to bed early, taking a Unisom and hoping it would knock me out. Alas, it didn't. I lay in bed for about 6 hours before I finally fell asleep. The Airbnb was insanely loud, with the upstairs people (the owners) blasting an RIP Chuck Berry playlist until the early morning hours (it could have been a lot worse — I love Chuck Berry. RIP!). Their dog also ran around all night, and the usual late night hipster Echo Park shenanigans out my window was enough to interrupt me every time I nearly fell asleep. I think I eventually nodded off around 2:30 or 3… and then my alarm went off at 4:30am to prepare for the 6:55am start 🙁
I was unpacking my bag just now, and came across my handwritten schedule for the morning of the race:
2.5 hours before: 2 bagels, 0.5L beet juice
1 hour: 200mg caffeine
0.5 hours: Tylenol
The bagels sat perfectly in my stomach. I'd never tried beet juice before — not even in training — but having read Matt Fitzgerald's raving about it, I decided to go for it. It tasted fine to me and definitely caused me no harm (as promised, my pee was purple for the next two days). Between the beet juice, the bagels, the caffeine, and the Tylenol, I was feeling amazing at the start line — absolutely not like someone who'd only slept a few hours.
Jogging to the start from my Airbnb, I met a fellow runner headed the same way. We had a nice chat (he hadn't slept much either) and helped one another find the Gear Check. As we were about to say goodbye, I asked him how fast he was hoping to finish. He said about 4 hours, but that he was already exhausted from keeping up with me on the way to the race. I'd thought he'd be shooting for around the same time as me based on his form when I first spotted him. I hope he made it! He said his name was Daniel, and there were about 10 Daniels from LA who came in around 4 hours, so I'll assume he was one of them.
Naturally, I had to pee once I got to the start line, and naturally there were no bathrooms without massive lineups. I just downed a gel and told myself that soon I'd be much more concentrated on getting fluids into my body than out. Sure enough, the urge to pee went away as soon as I started, and it never returned.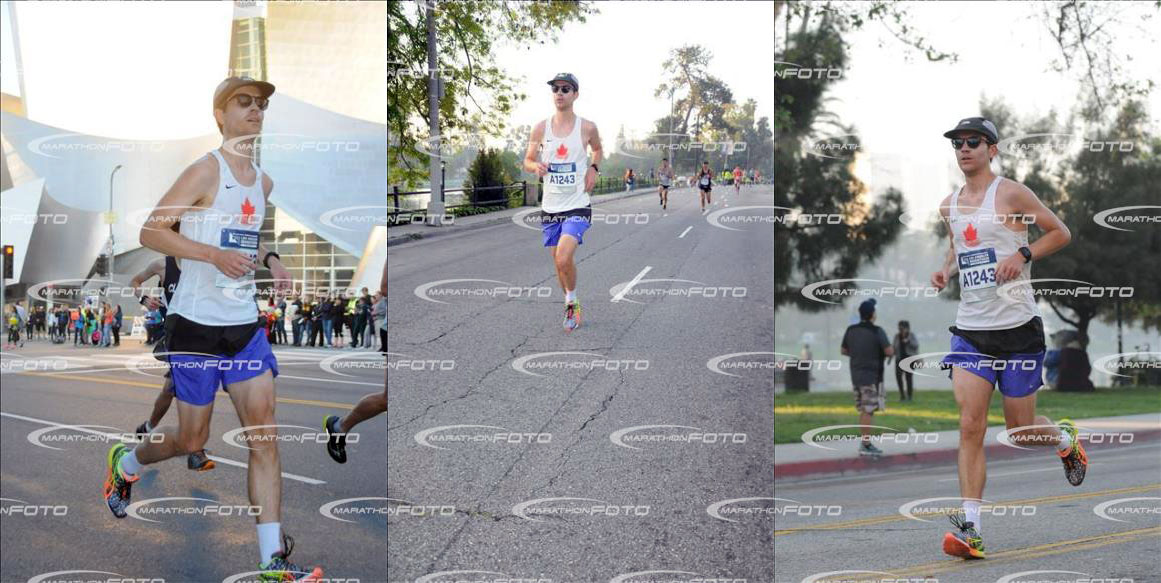 The first part of the race was great. I felt really, really strong (for some reason, I can't help thinking it was the beet juice!). Even running in a very controlled way, I was way below my target pace. Of course, the first little bit of the LA course is almost straight downhill, so that made sense. All in all, LA is a pretty easy course, especially since it's a net downhill. But given the extreme up- and down-hilliness of the first few miles, it can be a challenge to set a steady pace out of the gate. By the time I arrived at Echo Park, around mile 6, when things level out, I was running around 6:18/mile, a little above where I wanted to be. But as one always does when running, I began to think, "Well, I'm feeling so good that I might as well just try to hold this to the finish!"
The weather was almost ideal. In Celsuis (sorry, I never adapted to Fahrehnheit) it was about 13 at the start line and predicted to be 18 three hours later. The forecast called for clouds, but it was sunny throughout. I'm super sensitive to sun-heat, so this wasn't great for me. Good thing I absolutely covered myself in sunscreen (note the "Zinc"-like white surfer sunscreen on my upper face in the photos). I tried as hard as I could to run in shade, but it mostly wasn't possible.
I don't have any particularly clear memories of the next 10 miles or so. All the way through Silver Lake, Los Feliz, and Hollywood, I was feeling good, trying to stay steady, trying to run in shade. I was also trying to be smart by picking quick lines and not blindly following particular traffic lanes (a lot of people were doing this). I did try to take in and enjoy all the sights, like City Hall, the Hollywood Sign, the coffee shops and restaurants I like in this part of town. One of the most fun things about a marathon is that it's a chance to run in the middle of streets without getting killed. I especially enjoyed doing this on famous streets like Sunset and Hollywood.
By the time I got to Hollywood, I had the sense I was getting near the finish. This was totally not true (I still wasn't at the halfway point) but since I didn't personally know any of the neighbourhoods between Hollywood and Santa Monica, and thus couldn't imagine them, it was hard to include them in my mental racing map. Still, I plowed on, past the Laugh Factory, the Comedy Store, the Whiskey A Go Go, down Rodeo Drive.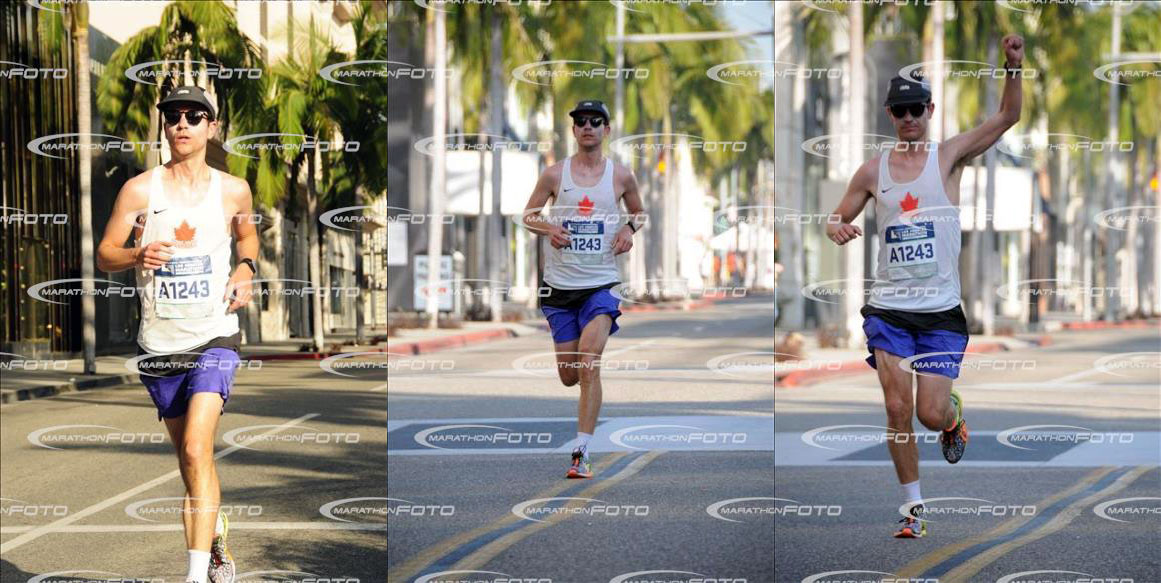 On Rodeo Drive itself I had one of my more enjoyable moments. I was running in the same Canada singlet I wore in Victoria (living in America has made me extremely patriotic), so I was getting a lot of "Hey, Canada! Woo!" types of shouts from the (amazing) crowd. But on Rodeo Drive I heard the best of them. Someone yelled out, "Hey! Justin Trudeau! You rule! Fuck Trump!" I doubt he actually thought I was Justin Trudeau, but as you can see in the photo above on the right, I was willing in the moment to take on that mantle.
I was still feeling good around this point, still averaging around 6:15 on my watch, and still feeling like I had lots of energy in reserve. LA has a whopping 24 water stations, and gives out high-carb Gatorade, so I didn't need to eat a single gel, which left my stomach extra happy. Much of the course was downhill at this point, and I was really moving, pushing hard on the downhills so that I could ease up a bit on the uphills. I passed a lot of people in this section of the course, between miles 16-20.
By mile 16, the traditional spot one "hits the wall," I definitely hadn't. But once I hit mile 20, I started feeling tired. It was really sunny at this point and there were no shadows on the road. There was also a long (several-mile) uphill as the course passed under Highway 405. By mile 20, I definitely was not "feeling good" anymore, and was starting to realize that it would have been a very good idea to have stuck closer to my 6:24 pace from Echo Park onward. Still, though my brain was hurting, my legs seemed to be turning over okay.
(The Hansons training plan I followed is somewhat controversial for prescribing relatively short "long runs" of 16 miles at most. Some might say I started to slow down late in the race because I hadn't run long enough training runs. I really don't think that was it. I'm pretty sure it was the combination of too much sun and too fast a pace early in the race. Also: I beat my last time by almost 10 minutes, so the Hansons plan must be at least a decent one.)
By the time I got to the top of the hill around the 405, my average page was down to about 6:20 on my watch. I knew the rest of the race was downhill, so I was hoping to be able to ride gravity and not give up much more. If the last 4-5 miles had been uphill, I would have been in huge trouble.
This was the point where I started checking my watch every two minutes, each time disgusted that I'd only advanced another 0.1 or 0.2 miles. I was still passing people who were feeling even worse than me, but I was beginning to feel pretty awful myself.
I was still pushing, though. A bunch of people in the crowd said really helpful, practical things to me like "Only 3 miles left! All downhill!" That helped me focus. By the time I got to Santa Monica and started running along the beach, I was picking spots and running to them, leapfrogging from one to the other, staying sane by focusing on small goals and trying not to think about 24, 25, 26, 26.2.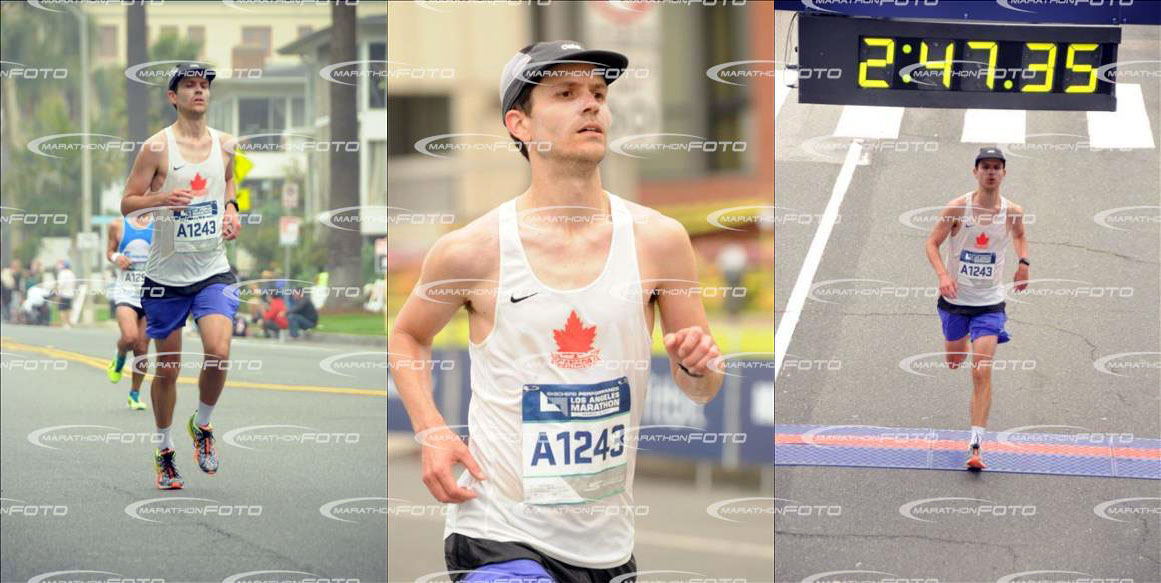 It was foggy in Santa Monica, so I took off my sunglasses. This allows you to really see all the pain I was in at this point. But that downhill slope saved me, and I was able to maintain my 6:20 pace (on my watch) right up until the finish. (As you can see in my Strava activity for the race, I actually ran the last two miles pretty fast. This is hard to believe.)
I crossed the line almost exactly at my goal time of 2:47:30. My actual running time was 2:47:19. My watch pace suggests that if I had cut every corner and run exactly 26.2 miles, I would have done so in about 2:46:15.
This time, when I crossed the line, I felt like I had absolutely nothing left. In this sense, my post-Victoria mission was accomplished. I now know what I'm capable of. This.
After I crossed the line, a volunteer had to give me a hand — otherwise, I would have gone down. She asked me, "Where are you from in Canada?" and when I replied, "San Diego," she looked genuinely concerned for me. I had exactly enough energy left to explain what I meant before she let me wobble off under my own power.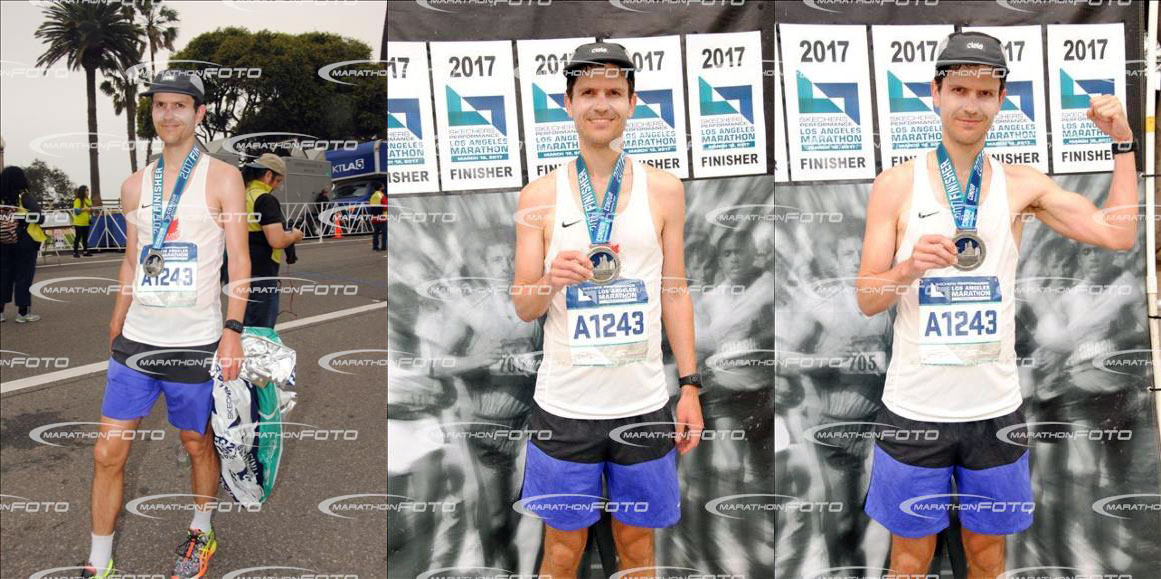 In the photo above-left, I look about how I felt, stupid and basically drunk. After slurping a whole bunch of Gatorade in the first few minutes after finishing, though, I regained control of my body. Normally I wouldn't bother to have my photo taken with the official backdrop, and I definitely wouldn't let myself be talked into flexing my arm for the camera, but in this suggestible state I was putty in the photographers' hands.
After eating as much food as I could manage in the finishing area, I got changed in a Porta Potty and hopped on the Exhibition line for the long ride back downtown. Before getting my Uber the rest of the way to Echo Park, I bought a Coke and a litre of chocolate milk in a pharmacy. Once I'd drunk those, I was feeling close to 100%.
After Victoria, my feet really hurt, so I decided to switch shoes for LA. This time, I wore Asics Hyper Tri 2s, basically just snazzier versions of the current Asics Hyper Speed. They're super light and very comfy and my feet felt great throughout the whole race. Unfortunately once I took them off, I could see that my toes were in pretty rough shape. I need to talk to a sports doctor about this before my next big run.
Speaking of which, I've decided not to run another marathon until Boston 2018. I've heard that three marathons every two years is a sensible maximum, and I think my mind needs a break. But I think I'll try to run the Scotiabank Toronto Waterfront Half-Marathon in October, and aim for a sub-1:20 time (my marathon time suggests I should be able to do it). I'm curious to know if a legitimate coach could push me into even greater feats, but I have no idea who to turn to, and part of me tells me I'm more likely to get good advice from my books than from some random coach. I'll keep thinking about it over the summer.
I must say, this whole running thing has been fun. It's amazing to discover a talent relatively late in life. I came in 29th overall in LA, out of a field of over 24,000 racers — in my second marathon, less than a year after starting to run regularly. I'm good at this. I sort of wish I'd figured this out earlier, but I'm happy to have figured it out at all.